Dunman Road GLS land parcel under the Urban Redevelopment Authority (URA) 1st Half 2022 Government Land Sale program is launched for sale on 14 March 2022. Tender will close on at 12pm on 2nd June 2022. It has a nice huge site area of 2.52 hectares of land which is equivalent to 6.22 football fields or 25,234.3 sqm or 271,622 square feet. With a gross plot ratio of 3.5, the maximum gross floor area is 88,321 sqm. Therefore this 99-year land plot can yield an estimated 1,040 private residential new condo units.
Huge Land Size Comparable To Jalan Tembusu GLS Site:
With this huge land size, it is likely that the price quantum for the land will cross $1 billion. There is high chance that developers will form joint ventures to bid for the land. Some market analysts say that the development risk is considered high for a big plot of land like Dunman Road's GLS site as developers will have to sell all units within 5 years or face Additional Buyers Stamp Duty charge. This land size is comparable to the recently awarded Jalan Tembusa land parcel which has an area of 210,545 sqft. The tender was awarded to the highest bidder, City Developments Limited (CDL) on 26th January 2022 at S$768 million, or S$1,302 psf ppr.
Large projects have a good chance of attracting developers as a result of their large scale, since mega projects have enjoyed healthy sales in recent years.
The Dunman Road condo site should still be attractive to developers, considering the shrinking supply of unsold new condos and the limited supply of new launch condos in the area.
If recent experience is anything to go by, the Treasure at Tampines is one good example. The Treasure at Tampines development, which was unveiled on Friday (March 15), was built on the former Tampines Court, which was sold en bloc for S$970 million in August 2017. All 2203 units were fully sold by 13 Feb 2022 before the 5 years sales deadline is up.
Prediction On Number Of Bidders & Estimated Land Price PSF PPR:
Various real estate analysts estimate that Dunman Road GLS site will attract 4 to 10 bidders with the winning bid ranging from S$1,280 and S$1400 psf ppr. Estimated future selling price is projected at S$2,300 to S$2,400 psf, says Steven Tan of Orange Tee & Tie.
Dunman Road GLS: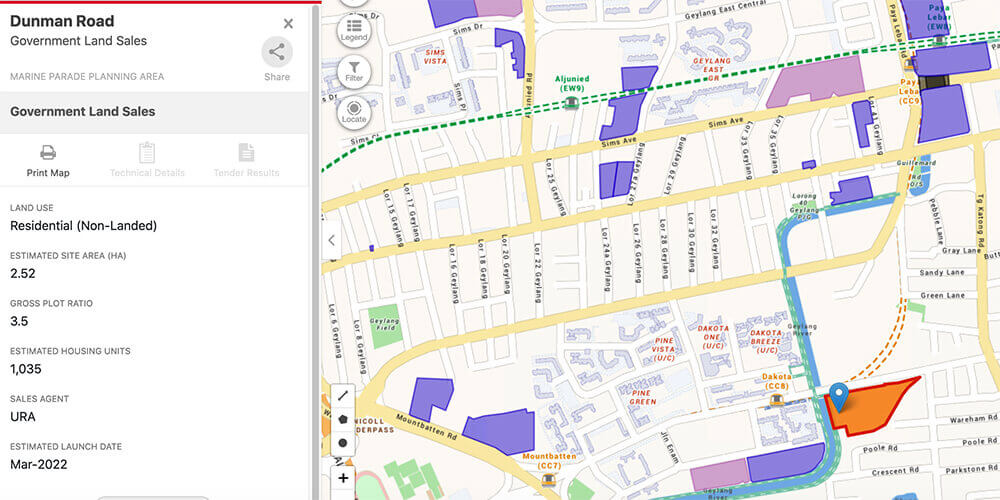 credit:ura
Location:
Dunman Road GLS plot is almost next to Dakota MRT (Circle Line CC8). It is seamlessly connected to all the other 5 major MRT lines in Singapore, namely East-West Line, Downtown Line, North-East Line, North-South Line and Thomson-East Coast Line. This city fringe land parcel (some refer it to the Dunman Residences) is situated in district 14 which is just a short ride to Marina Bay Sands.
Amenities:
Dunman Road GLS site is a short distance from educational institutions such as Kong Hwa Primary School, Geylang Methodist School (Primary), Haig Girls' School and Tanjong Katong Primary School. Nearby amenities include Paya Lebar Square, PLQ Mall and is just under 250m away to 51 Old Airport Road Food Centre which sells a wide variety of favourite local food fare.
Leisure at your fingertips:
The Geylang Park Connector, running alongside Geylang River, will provide future residents with easy access to Gardens by the Bay and Marina Reservoir.
District 14 New Condo Comparison: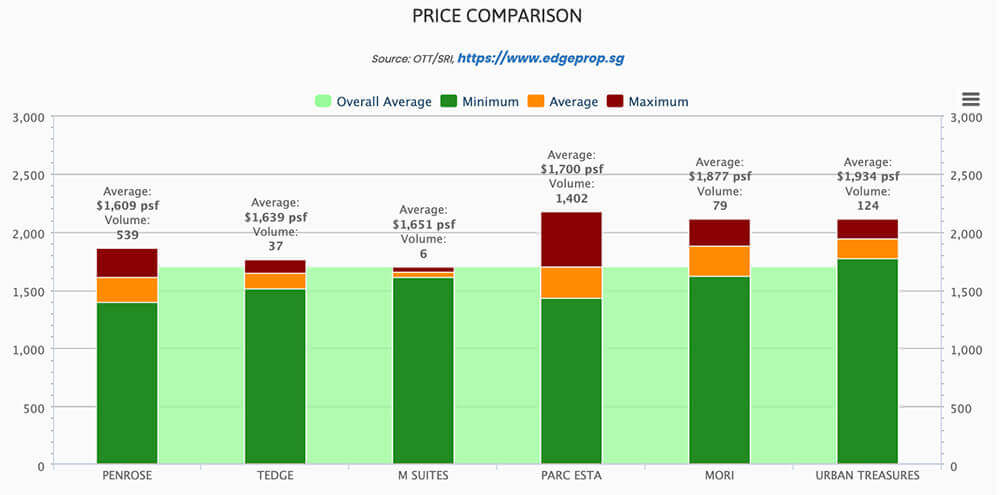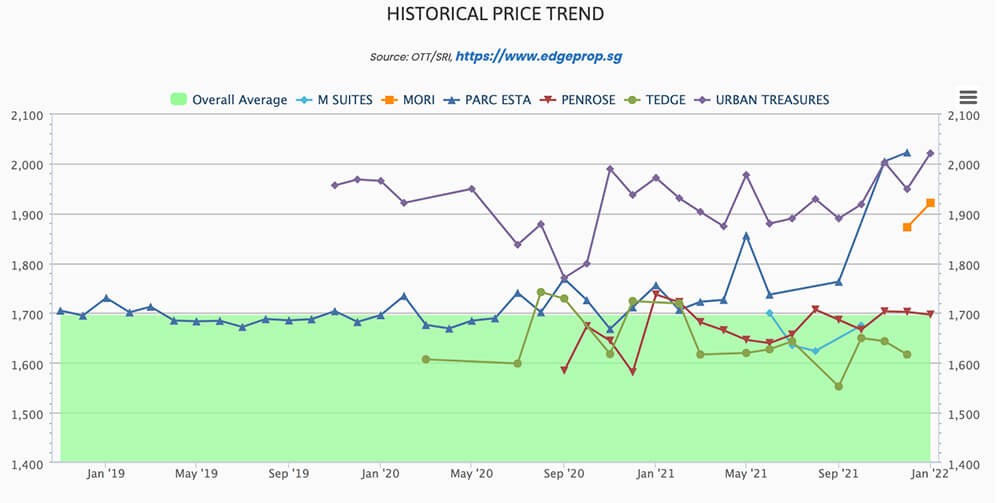 credit:edgeprop
Seven new condos have been launched in district 14 in the last 4 years. Parc Esta by MCL Land and Tedge by Macly Group are fully sold. There remains 5 new Singapore condos which are still available for sales, namely M Suites by FG Resource Pte Ltd, Mori by RL East Pte Ltd (subsidiary company of Roxy-Pacific Holdings Limited), Penrose by CDL & Hong Leong Holdings, Zyanya by NN8 development and Urban Treasures by Fragrance Group. Zyanya is the latest launch. Penrose' prices at an average of S$1,609 psf (in March 2022) look very attractive. At the time of writing, Penrose is 97.7% sold with only 13 lovely pool-view units left for purchase. And for that matter, there aren't many new stocks left for city fringe district 14 at prices that are still attractive as compared to the upcoming Singapore condo launches in Outside Core Region.
| Projects | 1BR | 1+S | 2BR C | 2BR P | 2+G | 2+S | 3BR C | 3BR P | 3+G | 3+S | 4BR C | 4BR P |
| --- | --- | --- | --- | --- | --- | --- | --- | --- | --- | --- | --- | --- |
| M Suites | | | | | | | | 1 | | | | 4 |
(Status as of 14 March 2022)
With great anticipation, a lot of eye balls are now on Dunman Road GLS project which will only be ready for sales next year in 2023 since tender is closing only in June 2022 and detailed planning is needed. Land prices look set to be going north so it is best to buy to wait for prices to increase than to wait to buy.
Any enquiries, please call our hotline: +65 61002500 | Return to HOME
source:https://www.businesstimes.com.sg/real-estate/ura-launches-dunman-road-residential-site-for-tender-drops-white-site-from-reserve-list